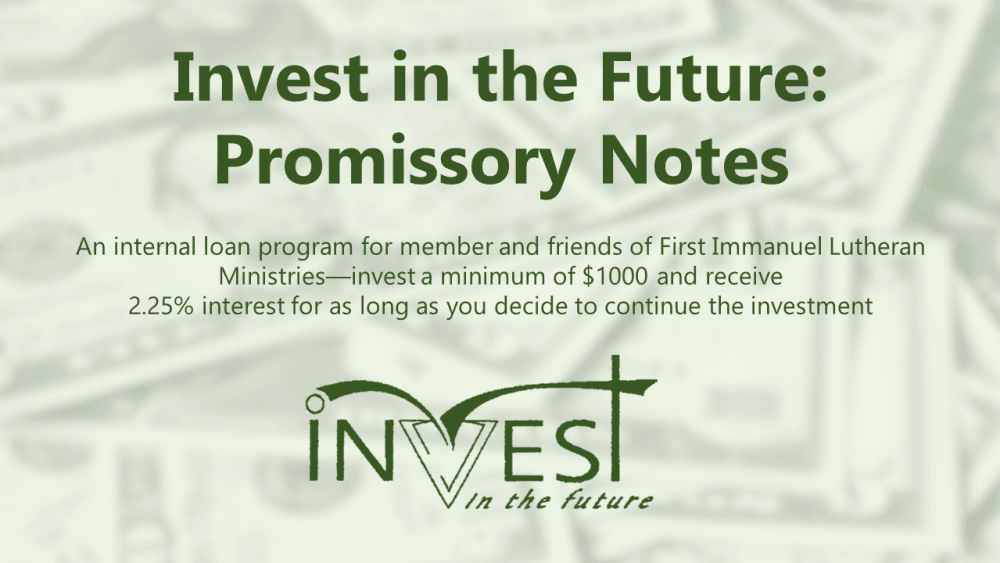 What is the "Invest in the Future" Program?
In an effort to be better stewards, First Immanuel Lutheran Ministries is offering its members and friends the opportunity to invest in an internal loan program. This loan program will give members and friends of our congregation a new avenue to invest their money at a healthy rate of interest. As a result First Immanuel Lutheran Ministries will decrease its operating cost by a considerable amount.
How does this work?
The money you invest remains your money. This program does not ask for contributions or donations. Rather, you will be giving our congregation a loan. In return the congregation will pay you 2.25% on your invested money. You will receive your interest check semi-annually.
How long will my money be tied up?
You make that decision. You invest your money, receive 2.25% annually and redeem your promissory note whenever you want. All we ask is that you give the congregation ten (10) working days notice to complete the paperwork and process your check.
Who is eligible?
Members and friends of First Immanuel Lutheran Ministries who are at least 18 years of age are eligible to participate in the loan program.
What is the minimum investment allowed?
You can obtain a promissory note with an investment of at least $1,000 and any increment of $100 above the $1,000.
How can I get involved?
Simply contact the church office for a promissory note application form or click here to download and print the application. Complete the entire document and return it with your check made out to First Immanuel Lutheran Ministries. In the memo section of your check include the words "Invest in the Future." If you are printing the application at home please click here to also access the w-9 form.